Main content starts here, tab to start navigating
Menus
Slide 1 of 4
Slide 2 of 4
Slide 3 of 4
Slide 4 of 4
Appetizers
Mozzarella Sticks

Breaded Mozzarella Sticks with Marinara

$6

Jalapeno Poppers

Hot Jalapenos and Cheese Deep Fried

$7

Cheesesteak Eggrolls

Delicious Cheesesteak stuffed into an Eggrol

$9

Nacho Grande

Baked Nachos loaded with Chili, Lettuce, Olives, Tomatoes and Cheese

$13

Steamers

Served with a side of drawn butter

$13
Buffalo Wings

Regular or Boneless with Hot or Mild Sauce Check us out on Mondays for our wing Night

$15

Loaded Fries

Regular, Waffle, or Steak Fries topped with Bacon, Chives, and Cheese

$13

Appetizer Sampler

Chicken Tenders, Mozzy Sticks, Poppers, Onion Rings

$19

Cauliflower Wings

Crispy Cauliflower Bites in a Mild Honey Garlic Sauce

$9

Beef Wellington Bites

Bite Sized Pastries with a Bourbon Honey Mustard Sauce

$10
*Murphy's Favorites
Consuming raw or undercooked meats, poultry, seafood, shellfish or eggs may increase risk of foodborne illness.
Soups and Salads
Tossed Salad

$6

Sesame Chicken Salad

Grilled or Crispy Chicken in a Zesty Orange Sauce, Almonds, Pineapples and Oranges

$9

Caesar Salad

$6

Soup of the Day

Bowl $6

Quart $17

New England Clam Chowder

Bowl $6

Quart $17

French Onion

$6

Chili

Cup $5

Bowl $6
Sandwiches
Served with Chips
Fish Filet Sandwich

$10

Grilled Chicken Honey Mustard

$9

Murphy's Famous Reuben

$10

Hot Roast Beef and Provolone

with Horseradish Sauce

$8

Turkey Club

$11

Turkey Bacon Swiss

$10

Meatball Parm

$10

Grilled Chicken Parm

$9

B.L.T.

$6

Grilled Salmon Sandwich

$13

Buffalo Chicken Sandwich

$9

Pork Roll & Cheese

$8
Lunch Platters
Served with Fries
8 oz Angus Burger

with Lettuce, Tomato, Onion

$13

Cheesesteak

Beef or Chicken with Onions and Peppers

$13

Super Steak Sandwich

5 oz Filet Mignon, Lettuce, Tomato, Mushrooms, Fried Onions

$19

Fried Shrimp Basket

8 Pieces served with Cocktail Sauce

$14

French Dip

Sliced Roast Beef with a side of Au Jus

$13

Chicken Tenders

with BBQ or Honey Mustard Sauce

$12

French Onion Burger

Sauteed Onions, Swiss and Provolone Cheese

$13

Patty Melt

Burger with Cheddar on Grilled Rye

$13

Open Faced Roast Beef or Turkey

Over White Bread with Gravy

$12

Fish and Chips

Battered Cod and French Fries

$14

Chicken Basket

Honey Dipped Fried Chicken

$14
*Murphy's Favorites
Consuming raw or undercooked meats, poultry, seafood, shellfish or eggs may increase risk of foodborne illness.
Breakfast is Back!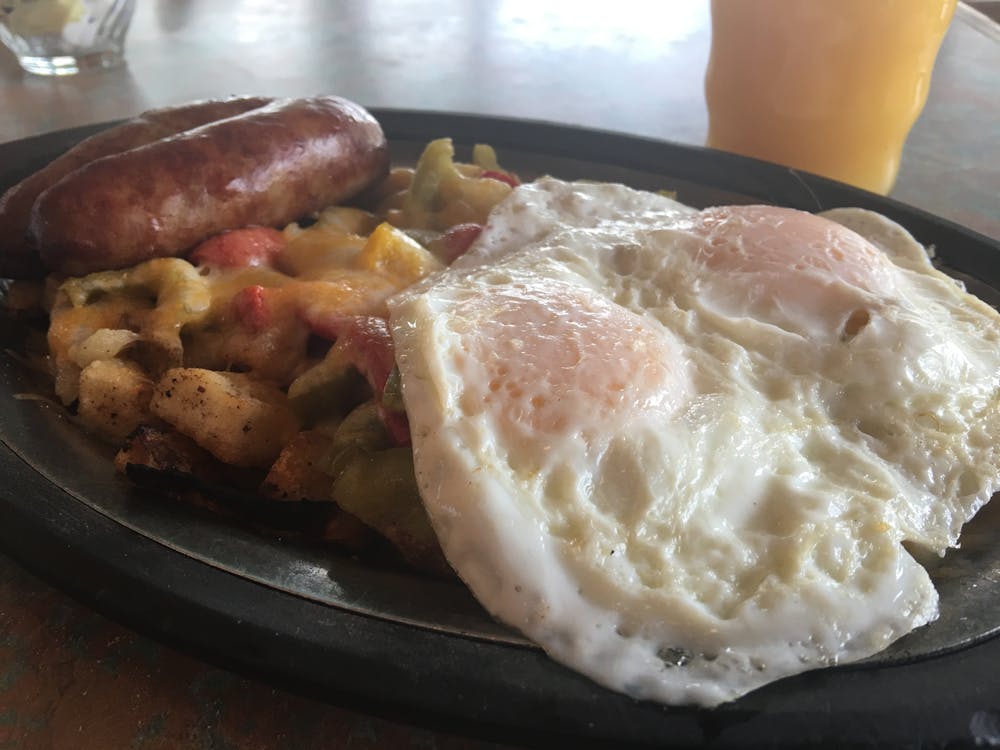 We're excited to be bringing breakfast back to Murphy's! Serving up the start of your day every Saturday and Sunday from 9 am to 1 pm. Don't wait out in the cold for a table. Don't sit in those long drive-thru lines. Come to Murphy's where breakfast is quick, delicious and affordable. Check out facebook for our menu - we'll be posting it here soon
Served with Soup or Salad and a Side
Chicken Marsala

Sauteed with Mushrooms and Shallots in a wine sauce

$19

Pork Sirloin

Deliciously Seasoned and Char-Broiled

$19

Grilled Salmon

Char-Broiled 8 oz Filet topped with Dill Butter

$21

8 oz New York Strip Steak

Topped with Mushrooms

$26

Spaghetti and Meatballs

Angel Hair or Penne with our Homemade Sauce

$15
Broiled Flounder

Twin 6 oz Filets in a Butter & White Wine Sauce

$23

Turkey and Mashed Potato Dinner

Hand Carved Turkey, Mashed Potatoes & Gravy

$17

8 oz Filet Mignon

Cooked to Your Liking

$29

Chicken Parmigiana

Served over Angel Hair

$20

Chicken Piccata

Topped with a White Wine Lemon Sauce & Capers

$18
*Murphy's Favorites
Consuming raw or undercooked meats, poultry, seafood, shellfish or eggs may increase risk of foodborne illness.
We've temporarily put our Happy Hour on hold while bar seating is prohibited, but our Daily Specials are still available. Daily Specials are available starting at 4:00 in the restaurant or bar area.
Monday
Wing Night

$5 for half a dozen & $3 SBC Goldencold Lager

Current Flavors include Hot, Mild, Thai Chili, Honey BBQ, Blueberry BBQ, Orange Marmalade, Jamaican Jerk Dry Rub and Mild Honey Garlic
Tuesday
Taco Night

Dollar tacos with $2 Coors Light Pounders

Choose from Beef or Chicken Tacos on a Hard or Soft Shell and check out our weekly Taco themed special
Sunday
Game Day Take-out Tray

Every Sunday during Football Season, we're offering a take-out tray fit to feed four friends for $40 while watching the game. You enjoy game day and let us do the cooking. Every week will offer a different combination of appetizers, sandwiches or meals. Check out facebook or call us at (570) 646-2813 on Sunday mornings to see what this weeks tray includes, call us to order and pick up any time on Sundays.
Thursday
NY Strip Steak Night

$16.95 NY Strip Steak with $2 Yuengling Pints

8 oz New York Strip topped with Sauteed Mushrooms. Comes with a Side and a Soup or Salad.
Friday & Saturday
Prime Rib

Slow Roasted Prime Rib available in Queen or King cuts. Served with Au Jus and Horseradish and a Side.